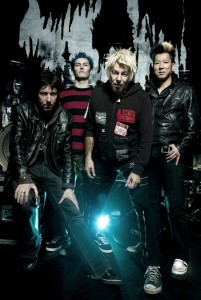 Uk Subs
Torek, 28 februar, 2012 21:00
Gala Hala
, Metelkova, LJ
Uk Subs (vb, punk)
+
T.V. Smith (vb, punk)
Neumorni punk dedek Charlie Harper se s svojo druščino vrača na oder Gala hale!
Urnik:
21.00: vrata
21.30: TV Smith
22.30: UK Subs
Angleške punk legende
Uk Subs
so po navdihu The Damned in Sex Pistols nastali davnega leta 1976 kot United Kingdom Subversives. Kmalu so svoje ime skrajšali in že v letu 1977 pričeli nastopati po vseh mogočih londonskih luknjah. UK Subs so spričo odličnih sedmih singlov (Stranglehold, Tomorrow's Girls, She's Not There, Warhead, Teenage, Party In Paris in Keep On Running), ki so se med leti 1979 in 1981 redno uvrščali na lestvico UK Top 30, postali eno največjih imen otoškega punka. Albuma Brand New Age in Crash Course sta se uvrstila na lestvico UK Top 10, UK Subs pa so začeli nizati obsežne turneje in se niso ustavili vse do danes.
Na tokratno evropsko turnejo so UK Subs povabili dolgoletnega prijatelja Tima Smitha
-
T.V. Smith
, ki je konec 70ih zaznamoval zvok skupine The Adverts, kasneje pa tudi drugih otoških punk skupin, a se očitno na odru najbolje znajde kar sam. Smith na turneji predstavlja novi EP "Dangerous Playground".