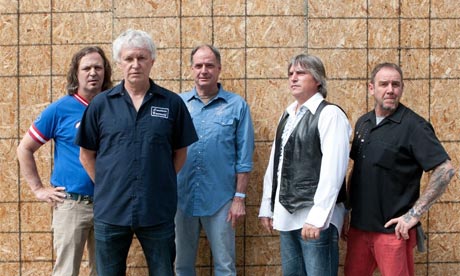 Pred aprilskim
English Little League
so svoj sedemnajsti
EP Down By The Racetrack
izdali
Guided By Voices
iz Ohia. Album si lahko dolpretočite na Music Bay-u, EP pa na New Album Releases. Guided By Voices nas sicer s samosvojim lo-fi indie punkom razveseljujeo že od leta 1983.
EP pa je izšel na 7 inčnem vinilu in na CD-ju. Izdan je bil 22. januarja in nosi 6 zelo lo-fi kompozicij. Dolg pa je slabih 10 minut. Drugače pa je bend letos izdal že pet singlov: "Flunky Minnows", "Islands (She Talks In Rainbows)", "Trash Can Full Of Nails", "Xeno Pariah" in zadnjega "Noble Insect" 6. aprila. EP je izšel, prav tako kot album English Little League, ki je že dvajseti po številu, pri njihovi domači Guided By Voices Inc.. Na Guided By Voices Inc. najdemo poleg izdaj benda tudi solo material Roberta Pollarda in Boston Spaceships ter Teenage Guitars.
Prvi LP oz. vinil skupine GBV, ki je druga izdaja benda po Forever Since Breakfast EP, je bil Devil Between My Toes leta 1987. Originalno je bil natisnjen samo na 300 kopijah vinila. Leta 1993 je nemška založba Get Hippy! izdala remaster 1000 kopij re-releasa. Skupina drugače črpa iz post-britanske invazije garažnega rocka, psihedeličnega rocka, progresivnega rocka, punk rocka in post punka.
Guided By Voices so pogosto igrali s čudnimi doma narejenimi zvočnimi efekti. Znani so po lo-fi estetiki in tipični Portastudio four-tracks - to - cassette produkcijski metodi. Večina komadov ni daljša od dveh minut. Robert Pollard je drugače znam kot avtor in soavtor več kot 1000 komadov. Poleg uradnih izdaj GBV obstaja tudi veliko box setov neizdanega materiala npr. Suitcase: Failed Experiments And Trashed Aircraft iz leta 2000 in Suitcase 2: American Superdream Wow iz leta 2005.

Piše: Matej V.